Income inequality is the canary in the coal mine, so we had better heed these warnings and require Congress to act in our behalf on the critical issues. Do-nothing is not an acceptable alternative for our Congress.
Here is all that needs to be said about the results of the do-nothing Congress we have had since the Republican caused Great Recession and worse, since the 2010 mid-terms which gave Republicans control of our House: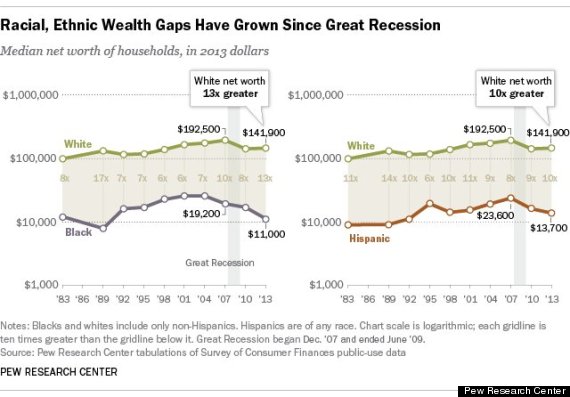 Sure, Republicans now also have control of the Senate, so the ball is in their court to impede this growing income and racial income inequality and stop the deterioration of our national character.
Republicans have gained their current power by a series of corrupt tactics and by the Dems themselves not stepping up to the plate in recent mid-term elections. Both bode not well for the future of our nation. Corrupt tactics include filibustering almost every action in the Senate, voting over 50 times in the House to defund Obamacare, and purposeful suppression of the minority vote by such as:
* requiring photo ID,
* not having enough voting organization in minority districts resulting in very long lines,
* disallowing felons from the vote,
* delegitimizing GOTV efforts for minority voters.
There is a pattern of another suppression, of minorities, by the recent revelations of injustices in the killings of blacks by law enforcement officials who then are exonerated without going to trial by either grand juries or worse, the total failure of officials to even follow up after these killings.
Furthermore, blacks are arrested and prosecuted for drug offenses than whites, whereas there are about as many whites committing these offenses as there are blacks.
There is no explanation for these inequalities other than that we Americans continue to have a problem with outright racism, in spite of the fact that the Civil War was won, that we have a Civil Rights Act 100 years after. and that it is illegal to discriminate on the basis of race or gender or sexual orientation.
All of these legalisms are meaningless unless we the people are willing to abide by these laws, of which many citizens are unwilling to do so.
The result is a weakening of the American character, a weakening of our country, a flaw in our national moral standing, the final result of which is chaos in our Congress and in our streets.
So this is exactly where we are right now, all leading to the ultimate failure of our state unless we act now!
What are you going to do about this? Vote? Protest? Contact your representatives?
Or are you going to give up and watch the TV and/or play games?